At Chiropractic Wellness Center in Newcastle, WA, we specialize in chiropractic adjustments. Our chiropractor treats spine and joint pain in adults and children. Our expert chiropractic staff is highly educated in understanding the joints, spine, and soft tissues of the body. This allows us to offer high-quality, safe chiropractic care. Chiropractic care focuses on relieving pain and discomfort using all-natural solutions, including chiropractic adjustments. This method offers decreased inflammation and pain and an increased range of motion.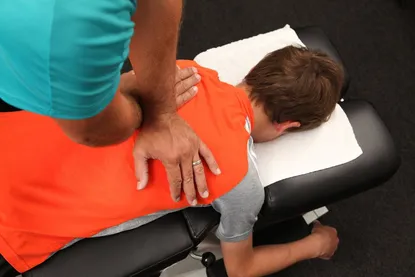 What Is a Chiropractic Adjustment?
A chiropractic adjustment, also known as chiropractic manipulation, is a therapeutic treatment used for different conditions and injuries. Our Newcastle chiropractor uses manual pressure to realign the spine or other areas. The goal is to reduce subluxations or misaligned bones and joints. When left uncorrected for a while, misalignments can leave your entire body out of sync. When our chiropractor finds a subluxation, it is corrected with an adjustment.
Typically, the patient lies on a table and our chiropractor looks for problem areas on the spine. We use gentle, direct pressure on these areas. The adjustment may cause cracking or popping noises, but this is natural. The sound is trapped air escaping from the joints in the spine. These adjustments allow discs and vertebrae to move back into the proper places. Spinal adjustments can provide immediate relief. With consistent sessions, our chiropractor can treat a variety of conditions.
Conditions Treated with Chiropractic Adjustments
Our experts use chiropractic adjustments to treat a variety of injuries and conditions, including:
Pinched nerves: Misalignments in the back can cause discs to press on nerves. By realigning the spine, discs move back into place and provide relief for pinched nerves.
Migraines or tension headaches: Oftentimes, migraines are due to different misalignments and tension in the neck or back. Chiropractic adjustments can correct these problems and give you some relief.
Back or neck pain: Back and neck pain are commonly caused by misalignments and inflammation in the spine. Chiropractic adjustments can help correct issues with discs, nerves, muscles, and joints.
Personal injury: Whiplash can be corrected successfully with adjustments. Spinal manipulation can ease tension and stiffness in the neck.
Schedule an Appointment with Our Newcastle Chiropractor for Spinal Adjustments
If you are suffering from chronic pain or an injury, we can help. At Chiropractic Wellness Center in Newcastle, WA, our experts provide spinal adjustments to treat a range of conditions. Call us today to schedule an appointment.